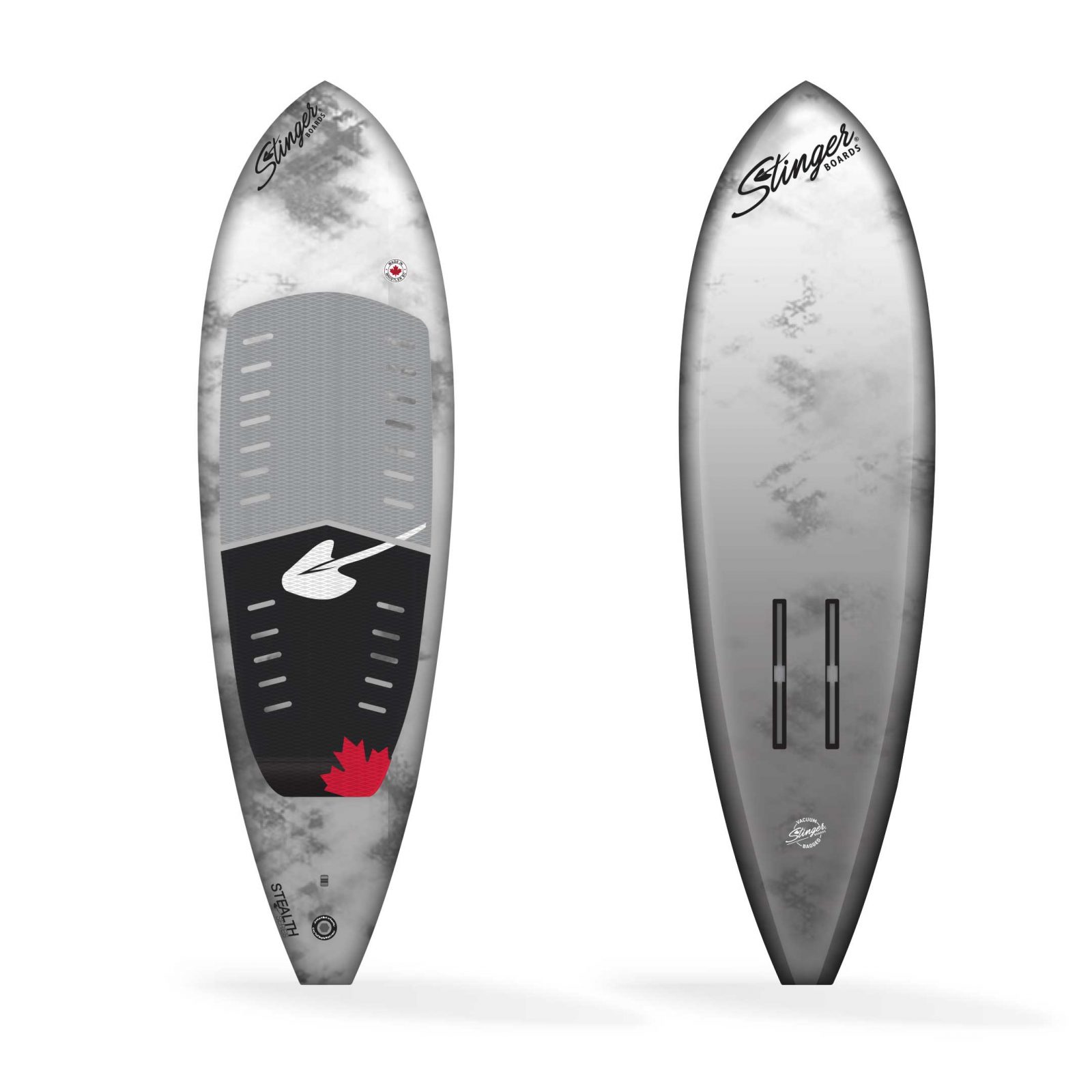 High Performance Wing Foil / Prone Foil 5'6″
New for 2024!
A new era of board design from Stinger.
Stemming from the DW / LW line, these are for Wing Foiler's or Prone Foiler's .
Shorter and slightly wider than our original Stealth DW / LW, the new HP / Prone 5'6" x 19.25" @ 65L will take your riding to the next level.
Overview
The traditional foil board shapes are great for starting out, but this new shape is a total game changer. The future is hear.
CEO & shaper Steve Legge created the HP / Prone 5'6" Foil Board for the lighter rider that weighs up to 165lbs, with his team and a Hydrodynamics engineer. The Stealth shape features a longer & narrower outline that has a shallow spoon hull for stability with an ideal amount of rocker up front . This hull shape transitions to a flat bottom from the mid point of the board to the tail creating substantial glide and acceleration.
The Stealth series has an innovative volume distribution and softened rail design so you don't hook up or get stuck when trying to get up on foil. The rails firm up through to the tail so the water can flush out the back for increased acceleration and speed.
Key note : ( the tail never meets to a sharp point so the water doesn't cross over and create
downward suction or impede forward momentum with unwanted turbulence.)
The 5'6" Stinger HP /Prone Board has proven its design with an incredibly easy and fast lift off and high performance maneuverability
Performance
Although the HP / Prone 5'6" is longer than most traditional shaped foil boards at 65L, don't let that fool you into the swing weight argument. Our team testing has shown that width of a board creates more swing weight and more of a slowed down feeling than the length! The length of these new boards is also minimized due to the foil mounting tracks that are a minimum of twelve inches further forward than traditional foil boards. The result is a longer board that actually feels much shorter when riding. This forward box position reduces much of the incurred centreline swing weight while riding. As for the outline, the "superman" shaped tail and narrow back foot area allow for more angle to be generated while carving turns and creates an amazing "High Performance" feel.
This new design has also allowed for increased volume compared to traditional board shapes. This translates into quick easy take offs while Prone Surf foiling and Wind winging. For Prone Surfing this adds the option of padding into unbroken waves or down winding pop ups due to its incredibly fast paddling speed.
This extra volume also makes it easy for Wind Wingers to prone paddle or "sail off foil" to a wind line that is further out than the beach or get in safely when the wind shuts down.( these boards paddle amazingly easy and fast and give lots of float while standing with a wind wing off foil.). The Stinger Stealth 5'6" HP/ Prone board is truly on the leading edge of modern foil boards today!
Construction
All of the Stealth Series boards are built with "Vacuum Bag Construction" making boards that are lighter, more durable, and consistent. As a result, you get more acceleration speed , glide, and riding performance. The vacuum construction also ensures the Stealth will have a superior longevity over the test of time.
Our Company
Stinger Series Stealth HP/Prone boards are designed and built in Whistler BC, Canada. We are very proud to be the able to offer the lightest and strongest quality boards to Foilers in Canada and to our neighbours south of us, along with the state of Hawaii.
If you're looking for something slightly different in size/volume, we offer a custom build option. Click here for details.
---
Quick Points
5'6" x 18.5" x 5.5" | 65 lt
Full 3k Carbon Vacuum Bag Construction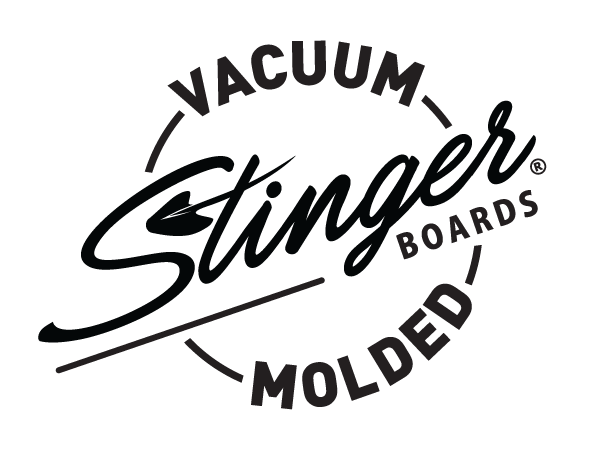 Construction
Diamond pattern deck pad
Paint
6oz S-glass
3k Carbon - 3/4 length stand/kneel zone
3k Carbon - full length
1.8lb EPS recycled foam
High Density Foam Foil Box
3k Carbon - full length
6oz S-glass
3k Carbon - foil patch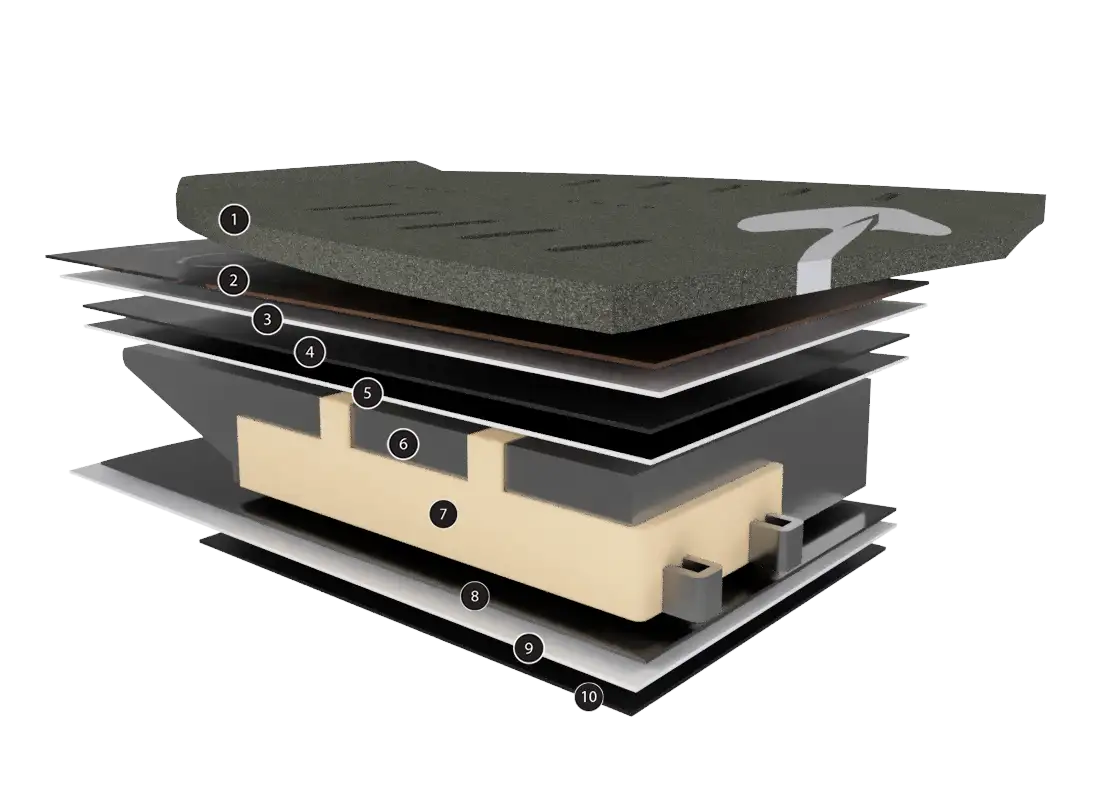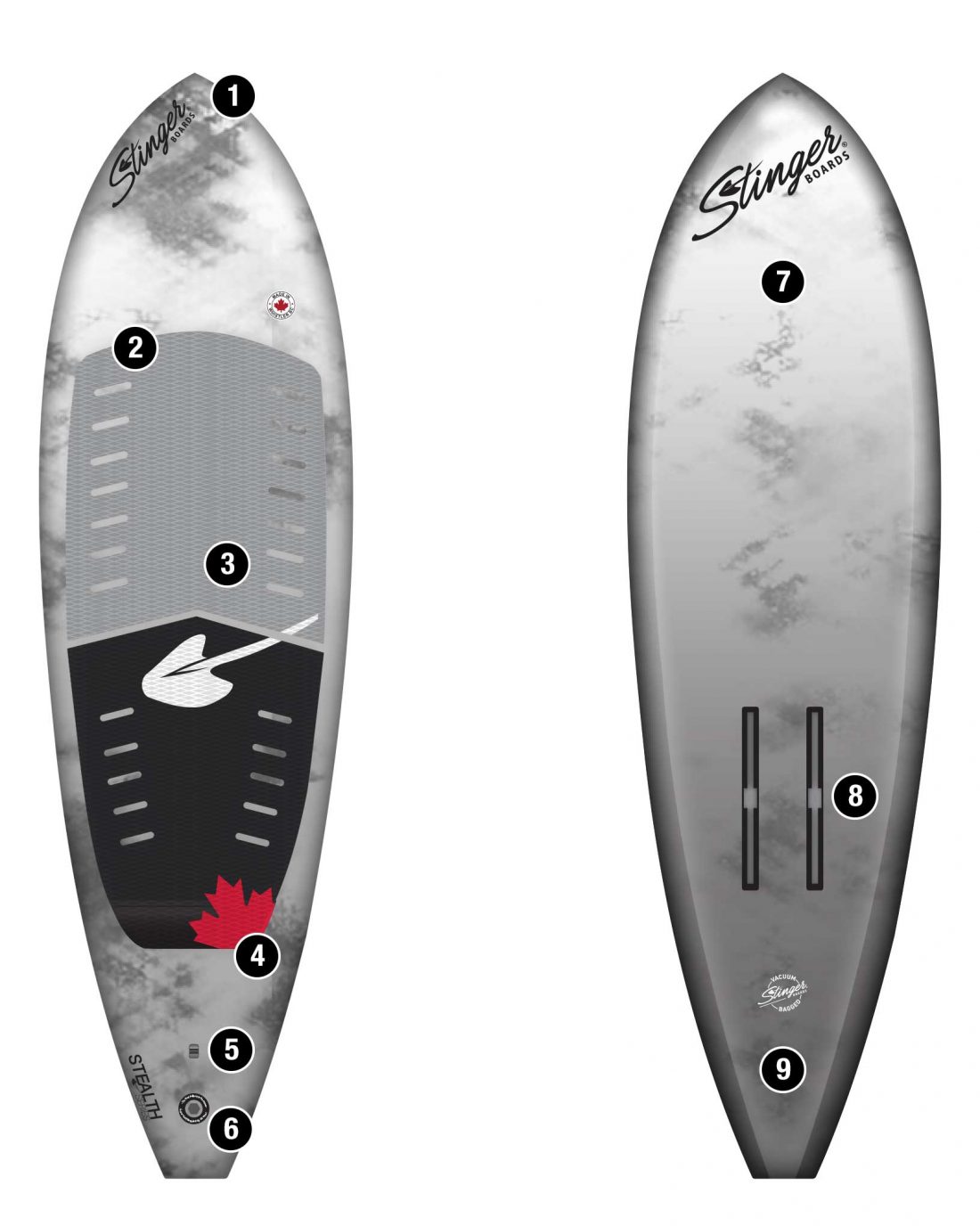 Features
CNC Shaped for accuracy
Full 3k Carbon wrapped board, top & bottom
Subtle deck recess for feel and control
Stinger Diamond pattern deck pad
Extra 3k reinforcement in standing/kneeing zone & over the foil box mount area as well
Gortex Vent Valve
Leash plug
Progressive teardrop outline
Spoon front shaped hull with tucked under rails that increase to full rail at the foil box
Performance tail design for quick release, minimal drag and fast acceleration
30" foil mount centre for perfectly balance downwind SUP and Prone foiling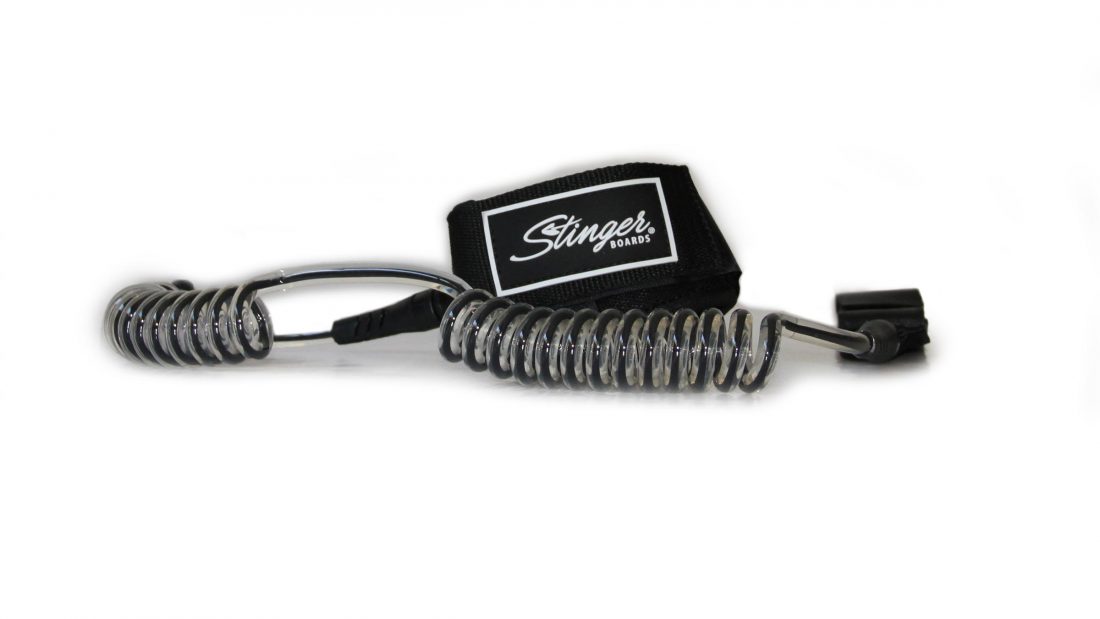 Dual coil leash